Looking for a job?
Change the taste with Bugfoundation!
We're the first German start-up which develops and markets insect-based food products! As an international, EU-founded and rewarded company we're realizing our vision: make eating insects perfectly usual and suitable for everyday life in Europe. We do this for more than one good reason:
Insects taste delicious, insects are incredibly healthy and insects are far more sustainable than conventional meat.
Wanna revolutionize the food industry together?
Apply now! Currently we're looking for new team members for the following vacancies:
Currently there are no international vacancies, sorry :(
You're keen to write history together with us? Send your job application as PDF via Mail to revolution[at]bugfoundation.com.
Just in case you want to send larger files like videos, please use a WeTransfer-Link within you application E-Mail.
That's why working with us is fun!
1. The right atmosphere
In Osnabrück we let the sun shine inhouse. We're in a constant good mood,
we're highly motivated for what we do and we're enthusiastic.
We prioritize positive communication. There's no room for negative energy and big egos.
We rather turn up the music a little!

2. A big handful of spices
We have a vision, we're strive for quality and sustainability.
We need salt and pepper, as well as rough edges.
Our team is harmonizing so well because we're all mad individuals,
who complement each other perfectly and most important: who love their work!
Want to get to know your future colleagues?
Click here!
3. Your hand full of innovation
We love to see our plants growing. We're not standing still -
we're burning for innovation. We value everyone, who is constantly looking
for new knowledge and is trying to perform at his and the team's best.
Therefore, we guarantee, you'll be met with open ears
questioning the status quo and implementing own, unconventional ideas.
PS: These tiny plants are papyrus, which Baris grows on his window bench in the office.
4. A great pinch of variety
In consequence of a flat hierarchy we work together with colleagues
from different departments. Thus, everyone gets insight in all processes
of our value chain and understands the development
process of our company. In the Bugfoundation it's never boring,
as we're constantly growing together.
5. Keep in mind: season to taste
We distinguish ourselves through our flexibility. As agile operating start-up we're able
to change the direction from time to time. Or lean back a bit, when winds are not blowing too fast.
This means, we're not only colleagues, but we're also partying together from time to time.
6. Does taste good?
We don't just do burgers, but love the variety of the cuisine.
We prefer enjoying our coffee and lunch breaks together.
Our office-kitchen represents the perfect meeting point with everything needed to prosper.
Together we make insects to an integral part of the western diet.
Want to join the revolution?
world ...
the time has come to push some buttons.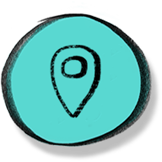 EAT IT. NOW!
Wheeeere can I eat this lovely good looking burger made of insects? Here are all the locations across europe!