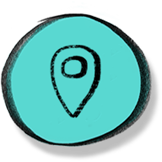 FIND YOUR CLOSEST SPOT TO GET THE BURGER:
CHANGING THE GAME.
Next Steps For your craving.
Where to get Germany's first insectburger?
A long time, the legal framework in Europe only allowed us to sell our Burger in Belgium and the Netherlands. Finally you can enjoy the unique taste in Germany as well.
Check out the map above to find a restaurant, a catering company or a retailer close by to enjoy our delicious products. Or push your business forward and get all necessary information by requesting detailed information about our products by mailing at sales@bugfoundation.com
The amount of restaurants selling our insectburger is constantly increasing and we will also expand to other European countries soon! Subscribe to our newsletter to be informed, when our burger comes to your town!