Insectburger @ REWE
As first German supermarket REWE added the insectburger to their range in April 2018. By now our original and minis are available in over 1.000 REWE-stores in Germany. With about 3.300 stores the food store chain is Germany's second largest food retailer.
Where can I find the insectburger @ REWE?
You can find the following products at over 1.100 REWE stores in Germany:
"Germany's first insectburger - the original" with 2 patties à 98g (in total: 196g)
"Germany's first insectburger - our minis" wit 6 patties à 29g (in total: 174g)

As our burgers are deep-frozen products you can find them in each REWE in the deep-frozen section.
It is also possible to order the burger at the REWE online shop.
You became hungry?
Find a REWE store nearby:
world ...
the time has come to push some buttons.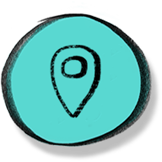 EAT IT. NOW!
Wheeeere can I eat this lovely good looking burger made of insects? Here are all the locations across europe!