No limits for taste!
Searching for the perfect burger two friends push the boundaries of culinary conventions and market the first insect based burger from Germany. A crunchy, juicy and flavourful relevation with convincing content:
Rich in protein and unsaturated fats, free from artificial additives and drastically less resource consumtion than with the production of conventional beef.

SO: Lean back, enjoy the perfect taste and become a part of our burger-revolution.
world ...
the time has come to push some buttons.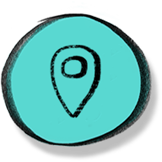 EAT IT. NOW!
Wheeeere can I eat this lovely good looking burger made of insects? Here are all the locations across europe!